Workplace Transformation Planning Crucial During These Times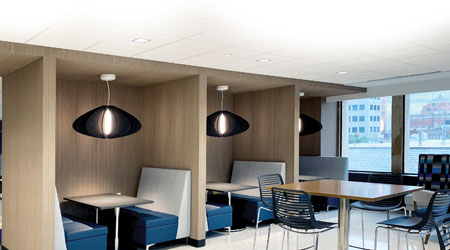 By Ali Summerford, interior design director at Oculus Inc.
It seems that companies' plans and protocols for COVID-19 change weekly, if not by the day. But one thing doesn't change, the importance of needing to put together the right plan for coming back in the office when you feel like the time is right.
Whether your company has started moving back into the office or its efforts have been put on pause by the latest Delta and Mu variants, change management is an important part of re-entering the workspace. With change management, employees' concerns during these stressful times can be put at ease through consistent communication from project initiation and regular core team meetings. A space utilization study can also take place and help determine current occupancy levels, plus potential usage of conference rooms and amenity space.
If your company decides to utilize restacking, it can turn a once siloed office into a more collaborative space. Through restacking, you can recreate your workplace to make a more efficient space that helps the company better achieve its goals. Instead of separating different teams on various floors, restacking a workspace can integrate them, which can bring more "outside the box" ideas to the table.
With any move, the proper planning is needed in order to move people, belongings and equipment. This is where using move management can pay big dividends. Move management requires an ability to communicate, problem solve and possess an attention to detail to successfully coordinate and implement a move. This makes it easier to identify potential pitfalls that could occur when moving back into the office and find ways to avoid them.
To read more about the importance of using change management, restacking and move management during these challenging times, check out this article I wrote in the August issue of Building Operating Management magazine: https://www.facilitiesnet.com/commercialofficefacilities/article/5-Winning-Strategies-for-Your-Post-Pandemic-Office-Playbook–19349.